Reality
Modules
DSpatial Reality*  includes a set of 10 AAX plugins that interface with the application
and boasts a graphical interface that's divided into 9 sections / modules
*Reality Studio and Reality Builder
Space 
Space is the environment where different kind of objects and sound sources can be placed. The Listener is placed at the center of the Space. Different 2D and 3D point of views of the Space are available, Any two views could be seen simultaneously in two different screens.
Sources in DSpatial.are never alone, they are always related to the whole space around them. And they always carry with themselves all their surrounding space in the form of very complex reflection patterns. This is why objects in DSpatial are not like traditional audio objects. They are much more than that. They are Spatial Objects.
more about Spatial Objects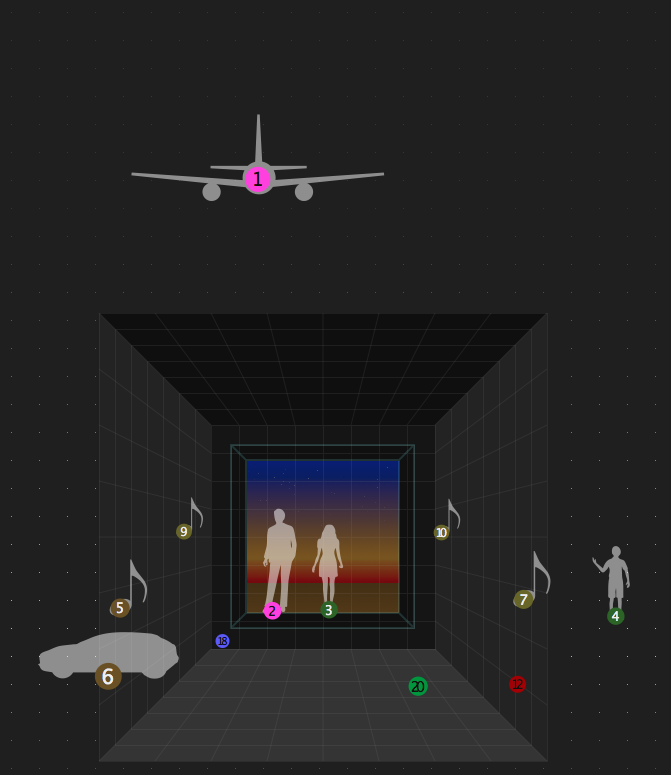 Inputs 
Up to 100 input channels in all versions
Every input has independent solo, mute, phase, icons, level, center force, space amount, proximity, inertia, Doppler and immersive tools
Groups 
Up to 40 different groups of inputs
Groups are a flexible way to allow for any input multi-channel format. Groups could have names assigned
Convolution reverberation  
2 simultaneous identical reverbs in all versions. + 2 reverberation models,
Screen: listener POV
Screen view is what the listener sees from his position
Multichannel level meters
Led bar views in different formats and from different angles.
LIstening room builder
In DSpatial listening room and the room to emulate are completely different and independent entities. You could modify any of them and leave untouched the other. The listening room builder allows to program any loudspeaker setup in minutes. But all your previous work remains untouched. It will be played back in the new room set-up. The more loudspeakers you use, the better quality you get. A high quality binaural mix is also provided
Immersive tools
DSpatial provides exclusive immersive tools for sound designers. Multiple predefined and programmable sound trajectories can be automatically programmed. A library of geometric shapes is provided.
Output monitoring section
Dspatial has an independent monitoring section with volume/dim , and mute / solo for each output channel